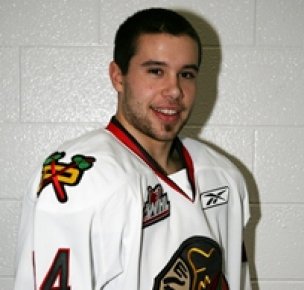 Trail's
Craig Cunningham had a weekend to remember in the
WHL
playoffs. The former Beaver Valley
Nitehawk
scored 4 goals and had 3 helpers in 2 games as Vancouver took a 2-0 series lead over the
Kamloops
Blazers. That's impressive stuff. Cunningham won the Giants MVP award this season and was named to the Western Conference first all star team. He has really found that extra gear this season.
Other local products didn't have quite as much success this weekend. Former Smoke Eater Lucas
Bloodoff
(and his brother Evan) found himself on the losing end as
Kelowna
dropped a couple of games in Everett. Lucas did have a goal and 2 assists in a losing cause.
Castlegar's
Luke Walker (Eric's cousin) and the Portland
Winterhawks
are going to have a big hill to climb as well after Spokane beat them twice in Portland this weekend.
As for Cunningham, it'll be hard for NHL scouts to ignore what he's done this season. Stuck behind a ton of talent on a deep Giants club over his
WHL
career, he nearly doubled his point total from 50 last year to 97 this year. He got a look in the NHL rookies tournament this past summer. I suspect he'll be a hard free agent to pass up this summer.
I had a chance to catch up with Cunningham on Overtime before the start of the first round...
Vancouver Giants MVP Craig Cunningham

Click here to download
WILKINS AND

MELLOR
After chatting with Scott Jacklin during game 2 of the
KIJHL
semi-finals in
Fernie
I then caught up with the other two members of
Trail's
Kimberley
Konnection
during game 5. Matt Wilkins and Sam
Mellor
joined me during the overtime intermission. I have a pretty good feeling the trio will re-unite as a line next season. Certainly it's something Coach Ingram has to be considering. Wilkins really showed what he can do during the playoffs. If he has a good summer I could see him hitting the same point levels
Mellor
and Jacklin have been hovering at.
Smokies forwards Sam

Mellor

and Matt Wilkins

Click here to download
KIJHL

FINALS
Chris
Cucullu
scored 3:53 into the second overtime to give
Nelson a 3-2 win in game 1
of the
KIJHL
finals against
Revelstoke
. It was as even a game as you're likely to see. Both teams hit posts, both teams had strong
goaltending
, both teams struggled on the man advantage, both teams played solid D... and in the end it took a second extra fame to find a winner.
It's a very unique situation in the
KIJHL
finals because the only time they two clubs met was in the third game of the regular season. There was really no telling what to expect out there. What we saw was a couple of deep and talented teams that are going to challenge each other in a big way. If you're in the
Kootenays
do yourself a favour and catch game 2 on Monday night in Nelson.
I had a chat tonight with Billy Faust (who returned from injury to get the win),
Cucullu
and Simon
Wheeldon
.
Leafs goaltender Billy Faust

Click here to download
Leafs

fowrard

Chris

Cucullu

Click here to download
Leafs Coach Simon

Wheeldon

Click here to download
DYLAN

TAPPE
I told you yesterday there was a new Smoke Eater to talk about. Dylan
Tappe
is his name and his name is listed over at
trailsmokeeaters

.com
-- but I haven't done the usual profile here yet. I'm still waiting to talk to Dylan before I do too much of a write up. I may do one tomorrow (with a Jim Ingram interview) even if I don't talk to him quite yet. I think this is a player Smokies fans should be excited about. I've had several people say positive things to me about the addition over the last couple of days.
More to come!